With summer just around the corner, the weather getting warmer and the nights drawing out, now is the time when many of us start to spend more time outdoors. But how can you improve the appearance and environment of your garden and make it a more pleasurable place to be?
Here are some suggestions for easy ways to improve your garden and enjoy spending time in it this summer...
Adding plants and flowers to your garden can help to bring colour and attract beautiful wildlife to your outdoor space.
One of the most simple and effective ways to transform your garden into a place you simply crave to be is by planting some new flowers or shrubs. By doing this, you can add splashes of vibrant and inviting colour which instantly improve the aesthetic appeal of the garden and indeed your entire home. Also, you'll attract more wildlife to the garden, which can make for a pleasant environment and improve your chances of spotting some new species if you enjoy that kind of thing.
2) Get a pond
Another great way to improve your garden and increase your enjoyment is by adding a pond. This may seem a little more unattainable, although even small gardens can be furnished with a pond at relatively low cost. If you are good at DIY, you could even have a go at constructing and installing one yourself.
Like the addition of new plants, a pond will also give the wildlife in the area a boost, by attracting things like birds, frogs and toads. If a pond is above your means, a bird bath is a great alternative to provide a focal point and entice some wildlife.
3) Look after it
A well kept garden is a much more pleasant environment to be in than a messy one. If your garden is overgrown, there's rubbish mounting up in the corners and the plants are all dead, it can look pretty depressing. As a result, you probably won't fancy spending any time there.
By keeping on top of your gardening, you're much more likely to want to enjoy your garden. Simply cutting back old shrubs and mowing the lawn every once in a while are two of the most simple ways to keep your yard looking in tip top condition.
4) Make it private
If you enjoy relaxing in the garden on a summer's afternoon,having a private and enclosed yard can make it that much more pleasant. Whilst you may have a good relationship with your neighbours, sometimes you just want to spend some quality time enjoying the peace and quiet on your own. If your garden is surrounded by a good fence or hedges, you can bask in it to your heart's content without any disturbances.
5) Add a garden bridge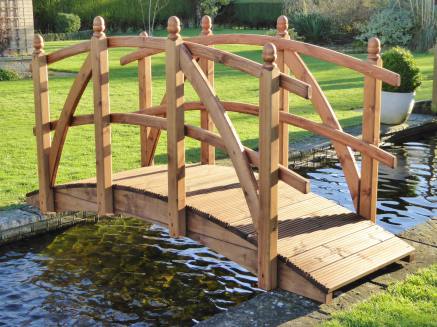 Garden bridges are a great way to create a pretty focal point over a pond or pathway in your garden.
A garden bridge is the perfect way to add a stylish and beautiful focal point to your home's exterior. Whether it's over a path, stream or pond, a bridge can transform any garden and bring it to life. It can also provide a great vantage point from which to stand and admire your new look garden, or to gaze at the array of wildlife that is attracted to it.
Many people take great pride in the interior appearance of their homes, but very often our gardens are neglected and forgotten about. When it comes to summer, it's nice to be able to take advantage of the pleasant weather and spend some quality time in the great outdoors. Making some of the changes above can be a great way to transform your garden into a much more appealing place where you'll be happy to spend the summer days.