Now that the winter solstice is long behind us, the days are gradually stretching out again and the arrival of Springtime and the renewal it brings is starting to fill everyone's minds like a promise. With the air gradually warming up outside, you may be thinking of lifting the (slightly stiff) catch to your garden gate and spending more time in your special outdoor space now that you can.
If this is the case, your garden might be looking a little bleak and colourless, in much need of a little extra care to bring it back to its former glory after a difficult winter. If you're looking to go beyond your usual springtime routine and make some exciting changes, now is the perfect time to get stuck into some rewarding and challenging projects. Maybe a few extra additions are just the ticket to creating a fresh, comforting hub for everyone in your family to enjoy.
With this in mind, we have included ten potential additions to your garden below to aid you in creating the perfect springtime hideaway. So let's get started!
1) Water feature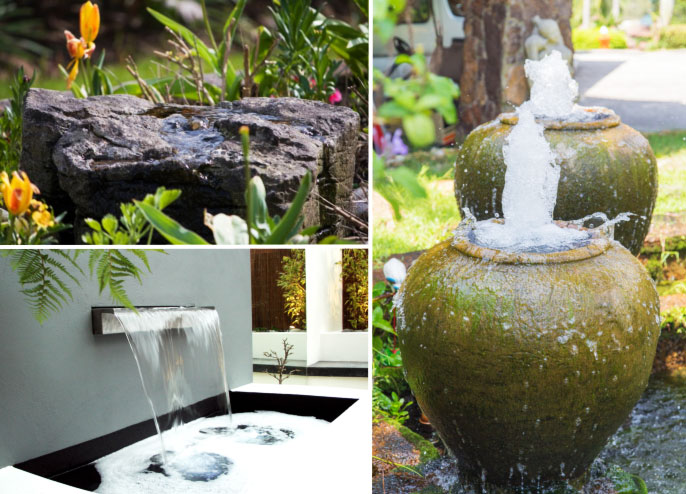 The inclusion of a water feature to your garden is ideal for creating or enhancing a peaceful environment, with their soothing sounds of flowing water and eye-pleasing appearances. Birds and other wildlife love them for getting a much needed drink or bathe, providing an enhanced buzz of tiny activity and life that you may not have achieved previously. Not only this, but water features are fantastic for drowning out annoying or unwanted noises such as construction, traffic and nearby conversations.
With many designs and sizes to choose from, any style of garden can enjoy these without looking or feeling out of place. Whether you choose getting stuck into a DIY project for something truly unique or purchasing your perfect water feature, you will find yourself happy for making the effort regardless.
2) Sculptures
Wooden, stone, ceramic, metal – the possibilities are nearly endless when it comes to choosing your decorative new garden sculpture.
Sculptures are so diverse and creative that it's hard to find someone who doesn't enjoy at least one type, whether it be the classic garden gnome or a contemporary stone display. Dependant on which you choose, sculptures can either bring about a sense of fun (that your kids or grand-kids will love) or enhance an already peaceful setting.
For a natural effect, maybe try an earthy wooden carving, or for something a bit more eccentric perhaps a mesh or wired creation?
3) Classic Rose Arch
Perfect for adding height to your garden, rose arches emanate traditional beauty and style, especially when adorned with beautiful and colourful flowers. Whilst roses make for a graceful and conventional climber, there are many other options for those with different tastes, such as sweet smelling honeysuckle or delicate jasmine. For more inspiration and advice, read our post on the best climbing plants for arches.
4) Vegetable Patch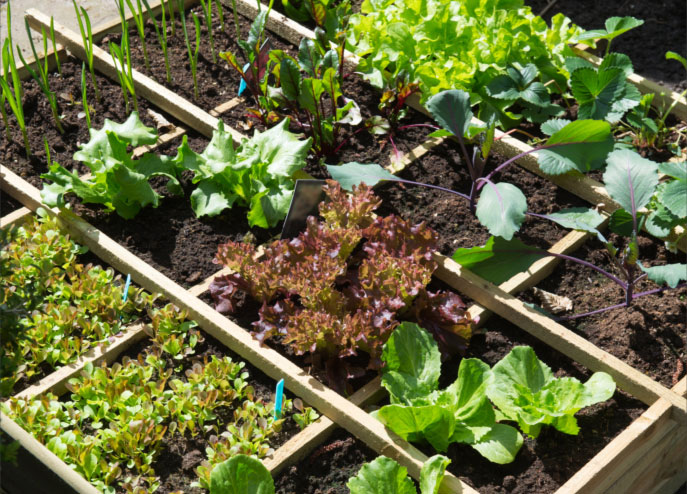 If you've got that little extra space in your garden, the incorporation of a vegetable patch can be an extremely rewarding and fulfilling project that both you and your family can use to create delicious home-cooked meals whilst learning more about nutrition.
Before you get started, make sure to choose an area in your garden that gets plenty of sunlight, preferably separate from your other plants to deter pests from chomping through your lettuce and other produce. A rich soil is also key, so make sure to add plenty of compost or manure to ensure optimal growth.
5) Garden Pond
If you've been going back and forth on the idea of adding a garden pond to your property, perhaps we can convince you! A finished and operative pond can be something of true beauty and wonder, perfect for all types of wildlife to use and enjoy. Garden ponds can become a rich habitat of varying life forms, adding educational value to the younger children in your family to observe and learn from at a safe distance.
If you're worried about a huge pond taking over your garden, you needn't - they can be any size you like dependant on the space you have, there is no right or wrong. With many approaches and styles, it also allows you to get creative – choosing and incorporating elements that are suited to you and your personal tastes. Perhaps integrate your pond with a water feature for an enhanced calming effect or leave them separated to split the use of water throughout your garden.
6) Garden Bridge
Lets face it, no garden pond would be complete without a majestic garden bridge...
Garden bridges are a true luxury for any garden lover, adding a practical but magical element to your outdoor space, reminiscent of graceful Monet paintings or stunning Japanese gardens. Garden bridges stand out on first glance outside your window, drawing your eye to them immediately for their immensely detailed structures, coming in many designs and lengths to suit your personal tastes.
Don't worry if your space is pond-less though, as garden bridges work well on their own accord too – perhaps to arch over flower beds or run over smooth stones? It's completely up to you!
7) Garden Furniture
With the immense beauty & nature in your revived spring garden, you might be looking for somewhere to sit down and bask in your work or perhaps even to reflect on the world around you. That's where garden furniture comes in, helping you spend more time outside whilst adding a tasteful and aesthetically pleasing appearance to your space. Whether it be the addition of quaint garden conversation seats or a large picnic bench or table, garden furniture allows you more opportunity to create precious memories in the area you've worked so hard to cultivate.
8) Outdoor Lighting
Give yourself even more time to spend enjoying your garden by investing in quality outdoor lighting, perfect for those darker evenings or for summer dinner parties and barbecues. Garden lighting offers a heightened sense of ambiance to any event or evening, lighting up pathways or shrubbery to create stunning visuals and of course, guide yourself and visitors through your lawn safely.
With many types and styles to choose from, any place will see these as a welcome addition, whether you go for whimsical string lighting or contemporary spot lights. You could even make a feature of your garden's best attributes by using low level accent lighting...
9) Play House
There are many benefits of outdoor exploration and play for children, including improved exercise and natural sources of vitamin D amongst many others. However, for those with little ones in their life, it can be challenging to find ways to get them outside as opposed to being cooped up with technology in your home. The incorporation of a play house or wendy house in your garden can become an exciting and incredibly fun factor for your little ones, allowing their imagination to run free as they play and explore.
If you need further help or advice on this matter, we recommend also reading our tips in encouraging your children to enjoy the outdoors.
10) Bird House
Lastly, bird tables and houses make for excellent additions to any outdoor area, attracting a steady flow of diverse wildlife and nature to your garden without taking up too much precious space. Great for educating yourself and others on different species and types of animal, bird tables offer the perfect feeding solution, regardless of the style or size you choose. Many people also look forward to seeing which birds are perched on their bird tables as the seasons change, giving you more incentive to look into your garden on a daily basis. We couldn't recommend them enough.
And there we have it - hopefully some of these additions have inspired you to get creative with your garden this spring! Let us know in the comments your favourite idea or anything we haven't mentioned... we'd love to know your tips and advice too!