Classica Low Rail Garden Bridge
Our Classica low rail garden bridge is one of our most popular bridges. It is both functional and attractive and will enhance any pond or stream. All our bridges are built from FSC pressure treated timber and overstained for long life.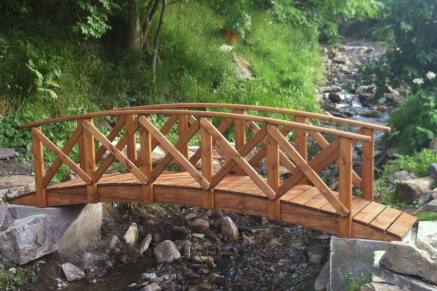 Listed below are our standard sizes but all our garden bridges can be made to measure with advice from Adam and our dedicated design team.
Give Adam a call 7 days a week 7am - 6pm on 01673 858899
Length

end to end

Width (inside)

Height from boards

to top of handrail

4ft - 122cms
20"- 51cms
20" - 51cms
5ft - 152cms
20" - 51cms
20" - 51cms
6ft - 183cms
22" - 56cms
22" - 56cms
7ft - 213cms
24" - 61cms
24" - 61cms
8ft - 244cms
24" - 61cms
24" - 61cms
9ft - 274cms
24" - 61cms
24" - 61cms
10ft - 305cms
24" - 61cms
24" - 61cms
11ft - 335cms
24" - 61cms
24" - 61cms
12ft - 366cms
24" - 61cms
24" - 61cms
'Made to use, built to last by people who care'