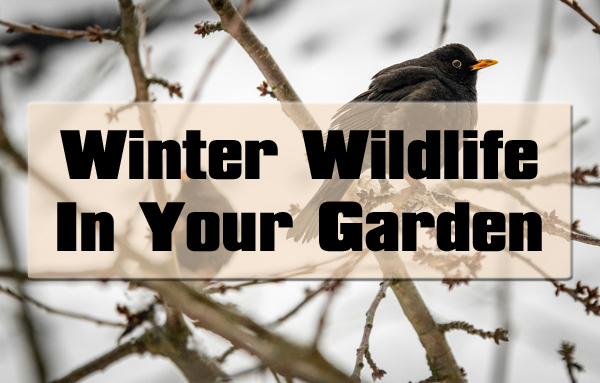 When winter comes around many birds and wildlife migrate or hibernate to avoid the cold weather and to help them conserve energy when their food is in short supply. The animals that do stick around for the winter, need an extra helping hand to help them survive the bad conditions.
We have put together a list of wildlife to look out for in your garden over winter and given you helpful tips on how to look after it.
Creatures and birds to spot in winter
Birds
Robin
Blue Tit
Wren
Crow
Blackbird
Goldcrest
Starling
Song Trush
Other Creatures
Squirrels
Hedgehogs
Insects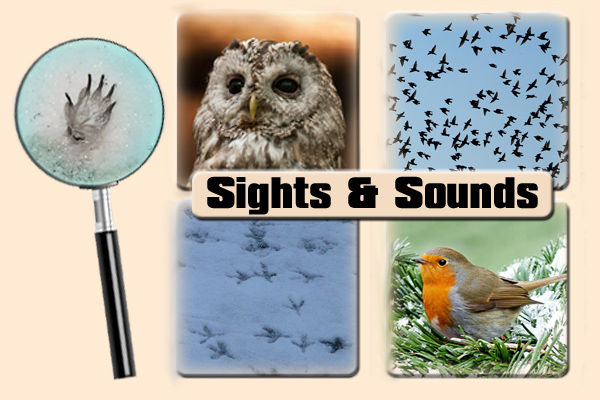 There are many beautiful signs of wildlife to look and listen out for in winter.
Roosts – Many birds such as Wrens, Rooks and Crows gather in groups to roost, this is for their safety and for warmth. They will fly in a large group before flying down to find somewhere to roost. These flocks can be breathtaking, the best time to spot a them is an hour before sunset.
Trails – As the ground tends to be softer at winter there is a better chance to spot animal footprints. The best place to find footprints is in the snow or on wet mud. This is a brilliant way to get your children interested in wildlife.
Sounds – Listen out for Woodpeckers and on an evening, Tawny Owls are at their nosiest over winter.
Feeding
Over winter birds will need feeding fatty foods to help maintain their energy levels and keep them warm. Here are some foods that are perfect for garden birds -
Suet & Fat Balls (Net free)
Grain Mixes
Soft Fruits (Pears, Apples & Sultanas)
Leftovers (Cooked Pasta, Rice, Boiled Potatoes, Cheese & Uncooked, Unsalted Bacon Rind)
Unsalted Fresh Nuts
Mealworms & Waxworms (Robins will love these)
If you plant hedges such as holly, hawthorn and rowan that have berries on this will give birds a natural source of food and also a place to nest in spring.
If you have any bird boxes in your garden ensure that you clean these out in winter ready for birds to nest in spring.
Birds and other animals will also be thirsty in winter, if you leave out a dish of clean water they can drink and bathe.
Other Animals
Squirrels - Although squirrels store food ready for winter they still need extra food to keep them full. Leave out food such as almonds, hazelnuts, walnuts and chopped apple as a treat for them.
Hedgehogs - Hedgehogs hibernate around October/November until March, they will look for somewhere warm and covered to nest. They usually move nests at least once during this time, if you want to encourage them into your garden, building a stack of leaves and foliage or adding a nest box in a safe corner of your garden will be a suitable place for them to nest. Leave out water, hedgehog food, meaty cat or dog food, chopped unsalted nuts to provide them with any food they may need.
Adding a bug hotel to your garden, will give smaller creatures somewhere to live and avoid the bad weather.
When taking care and feeding the wildlife in your garden you need to be aware of possible dangers that face the animals and how you can help.
When placing bird tables and feeders in your garden, make sure these are placed out in the open and away from any branches or bushes. Predators such as cats can hide in covered areas waiting for the birds to come and feed. Hang feeders at a height that cats cannot reach.
Make sure you regularly clean water dishes and bird feeders, as these can carry bacteria and diseases and make birds and other wildlife ill.
When hanging suet and fat balls ensure they are net free as birds may get stuck in the nets.
Foods such as grapes, sultanas, raisins and some artificial sweeteners are toxic to dogs, so place these where dogs cannot get to them, such as bird tables.
If your pond freezes over in winter, fill a saucepan with boiling water and place it on the surface of the pond until it melts a hole in the ice, to allow birds and other creatures to drink. Do not pour boiling water over a frozen pond and this could harm any wildlife below the ice.
When having a bonfire check the pile before lighting, as creatures such as hedgehogs, toads and frogs may try to hibernate in it.
Never leave out milk for hedgehogs as they cannot digest it and it can make them ill.
Be careful when turning compost heaps as small creatures may hide in these for warmth.
Laying out food and making sure feeders are clean will help attract wildlife into your garden so that you can view them from the comfort of your home. We hope you have enjoyed our tips and have learnt how to look after the wildlife in your garden over the harsh winter months. If you have any tips or advice on taking care of wildlife please share it with us.