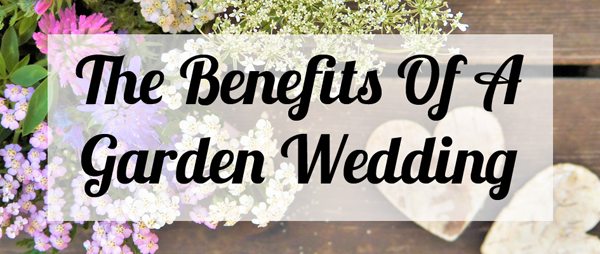 Garden weddings are a wonderful way to enjoy the great outdoors and admire the beauty of nature whilst saying 'I Do'. Most people assume a garden wedding should take place in the summer months, however if you are thinking of having an outdoor wedding you should also consider the other seasons. Spring, Autumn and Winter may not be as warm as summer, but they offer just as much beauty for a wonderful wedding.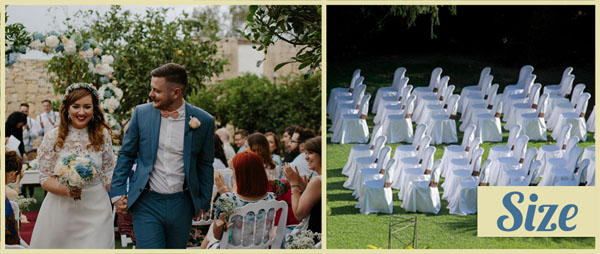 One of the best things about a garden wedding is the space, having a large open space often means that venues have more room for guests meaning that you can invite more loved ones to share your day with you.
Garden weddings can range from intimate to grand depending on your preference and budget. If you would prefer a more intimate wedding with close friends and family, why not have a ceremony in your own back garden. Although you cannot legally get married if the venue does not have a marriage license, you can have a blessing ceremony and then go to your local registry office to make it official
Having an outdoor wedding will give your special day a fantastic colour palette. Each season brings a whole new ambience with fresh natural colours.
Spring brings crisp and vibrant colours such as yellow, lilac, green and pink. Pastel colours are lovely for a spring wedding.
Summer has bright and warm colours such as red, yellow and blue.
Autumn has deep earthy tones such as orange, red, brown, yellow and green.
Winter brings colder colours such as blue, white, grey and purple. Darker colours are perfect for winter weddings to give a warmer feeling.
Having your wedding surrounded by nature can give you a variety of themes to choose from.
Traditional English Tea Party – Having afternoon tea with cups and saucers and hanging bunting will give your wedding a charming vintage feeling.
A Midsummer Night's Dream – Take inspiration from one of Shakespeare's classics with string lights, fairies and adding flowers to your hair for a magical wedding.
Festival – Have a colourful wedding with ribbons, rustic signs and wellies for a day filled with music and joy.
Seasonal – Choose a holiday such as Valentines, Easter, Halloween or Christmas as your theme and hang decorations from trees for a unique wedding.
Nature can provide a delightful soundtrack to your wedding, being outdoors you may be able to hear birds singing, leaves rustling and water flowing. The sounds of nature can create a peaceful and relaxing atmosphere for you big day.
Having your wedding in a garden is bound to provide many beautiful picturesque places to have your photo taken.
Surrounded By Flowers – Capture the spirit of an outdoor wedding by including beautiful flowers in your photos.
By A Water Feature - Posing by a lake or water feature can create a stunning photo.
On A Bridge – Bridges are a great platform for wedding photos the contrast of a man made structure against a natural background can create a beautiful shot.
Candles & Lanterns – Lighting your garden with candles and lanterns can make for truly romantic photos.
Under An Arch – Posing under a flower arch creates a delightful natural frame around the happy couple.
As you can see there are many benefits to having a wedding outdoors. There are a variety of options for creating a beautiful garden wedding. We hope we have given you some inspiration, if you can think of any other benefits or ideas for a garden wedding please share them with us.